AFTER 20 YEARS, TWO FRIENDS REUNITE
Ben Solowey and Arthur Meltzer together in exhibition at the Solowey Studio
BEDMINSTER, PA --- The Studio of Ben Solowey featured the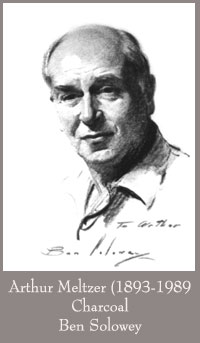 reunion of two longtime friends, Ben Solowey (1900-1978) and Arthur Meltzer (1893-1989) in an exhibition at the Bucks County landmark Solowey Studio. These two wonderful artists had not shown their work together in nearly twenty year. We were delighted to introduce our audience to another member of the Solowey circle of fellow artists." The Studio's exhibition, SOLOWEY AND MELTZER: PAINTINGS & DRAWINGS, opened to the public on Sunday October 11th at the Solowey Studio in Bedminster, PA and ran through November 15th, 1998.
The Arthur Meltzer works in this show spanned his remarkable six decade career: from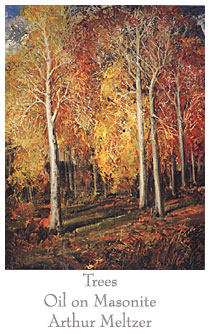 his extraordinary student drawings, to mature paintings from his final years. We were pleased to be showing a remarkable collection of drawings, including his earliest extant work from 1911. There was also a powerful pastel drawing he was inspired to create after seeing a photograph of refugees in Life magazine. In addition to drawings, there were Meltzer's acclaimed paintings. Like his teachers Daniel Garber and Joseph Pearson, Meltzer was a fine landscape painter. Appropriately for the time of year, we showed Meltzer's affinity for fall and winter landscapes.
The Solowey works in the exhibition showed Ben's easy versatility with both genres of paintings and mediums. Bowing to your requests, there were more landscapes and still lifes in this show, as well as portraits and figure studies. Landscapes include a classic view of the farmhouse in a veritable explosion of fall color, as well as scenes from various locales Ben and Rae visited before they settled in Bucks County. For Rae admirers there was Red Striped Turban , that shows Rae standing in the New York studio in front of the painting Rae in Green Dress .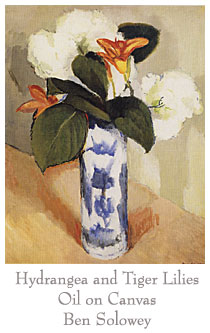 There is also Ben's last formal portrait of Rae, rendered in a soft pastel, in which she is wearing that same green dress.
Studio of Ben Solowey Home Page
© 2002 The Ben Solowey Collection. All Rights Reserved.