Jean-Antoine Watteau, an 18th century French painter and draughtsman "created, unwittingly, the concept of the individualistic artist loyal to himself, and himself alone," according to one critic. It is said that his work from the 18th century anticipates art about art, especially in his paintings and drawings of the theatrical figures from the commedia dell'arte. While generally considered the first great Rocco painter, it is his work as a draughtsman that had an influence on generations of artists, including Ben Solowey.
In a period where artists made drawings only as preparatory studies for their canvases work, Wattteau filled his sketchbooks with scenes from everyday life, which he would mine for his paintings. He helped to popularize trois crayons, or three chalks, often red, black and white, and his name is synonymous with his ability to use the technique to give his drawings a remarkable flesh tone. His work captured the spontaneity and grace of his subjects that makes them seems as fresh today as when they were drawn four centuries ago.
Ben would have learned of Watteau at the Pennsylvania Academy of the Fine Arts, and probably saw the works in person for the first time on his 1924 European trip. He collected reproductions of the artist's work and personalized Watteau's trois crayons style in numerous drawings of Rae.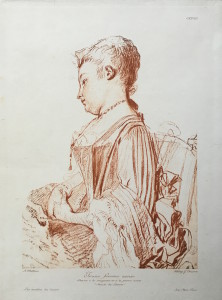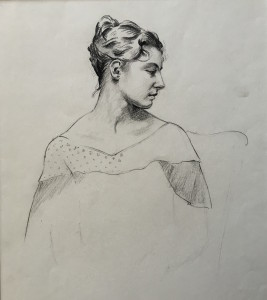 While combing through Ben's morgue, we found an excellent reproduction of a Watteau drawing of a young girl. Underneath was Ben's quick copy of the salient features, which includes a small study of shapes in the upper left hand corner. Beneath that was a drawing of Rae that is not exactly like its inspiration, but certainly influenced by it. The three works present almost a diagram of how Ben interpolated the style of other artists into his own, without resorting to slavish imitation.
In another work, he re-creates Watteau's drawing of a figure with her arm outstretched. Ben inscribed his version "After Watteau" and while the whereabouts of that drawing are presently unknown, we do have another drawing in a strikingly similar pose, perhaps the next step in Ben's internalizing of what he learned from his study of Watteau's original.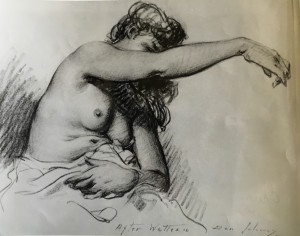 We will include these works, none of which have been previously exhibited, and more in our new exhibition, Homage: Ben Solowey's Art Inspired by His Influences, opening May 21st.