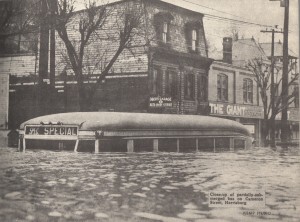 Thurs. June 2nd  at 7:30 pm at the Studio of Ben Solowey
80 years ago, the deadliest flood in Pennsylvania history covered more than 1/15th of the state in water for days & resulted in flood control legislation nationwide. Rae's family was particularly hard hit, with her family's business, home and adjacent properties all destroyed. A fascinating letter to the Soloweys from Rae's sister Rick, written days after the flood, gives a remarkable first hand account of the sights, sounds, & smells of the disaster that changed the face of Pennsylvania and the country.
In an illustrated dramatic reading of the letter, presented to great acclaim in Harrisburg, Pennsylvania on the anniversary of the flood, you will see startling pictures of the state submerged & learn about the people affected in this special presentation.
Seating in the Second Studio is limited. Reservations are encouraged. Contact RSVP@solowey.com or 215-795-0228 to save your seat this one night only performance.