The Earliest Solowey Drawings from the Pennsylvania Academy of the Fine Arts
The earliest works of Ben Solowey that remain today are those from his time at the Pennsylvania Academy of the Fine Arts (PAFA). Ben enrolled in classes in 1919, beginning his formal study of art that would lead to his lifelong career/passion. The Academy was founded in 1805 and is the first and oldest art museum and school in the United States, and at the time that Ben attended it offered a classical approach to making art.
Before PAFA students were able to draw live models, they were required to complete "Cast Drawing" class, in which students drew from casts of ancient sculptures. Beginning in the 19th century, art schools began to amass casts of sculptures for their students to learn anatomy and form. Many museums also began to have halls full of casts. One well known collection is that of the Victoria and Albert museum in London. Opening in 1873, the Museum has one of the most comprehensive collection of casts and its hall is a visitor favorite. These casts were treated as works of art, rather than teaching tools or mere reproductions of statues of antiquity.
In 1805, PAFA founder Charles Willson Peale requested casts from Paris museums to be sent to the yet-to-be-built Academy. Seventeen statues, twenty-five busts, and six of feet and hands were sent to Philadelphia. Among the included were the Belvedere Torso, the Venus de Medici, and Jean Antoine Hudson's L'Eorché (The Flayed Man). The casts were used in "Antique Class" (to be renamed "Cast Drawing" at a later date). The ability for students to work from these casts made the experience of "drawing from life" more accessible. Once students became proficient in drawing the cast sculptures, they moved on to drawing from live models.
Former PAFA archivist Cheryl Leibold gives an accounting of the collection: "An Academy property catalogue of 1889 lists 280 casts of statues, busts, reliefs or anatomical fragments in the collection probably the highest total ever." New casts continued to be added to the collection up until 1920, just as Ben entered the Academy.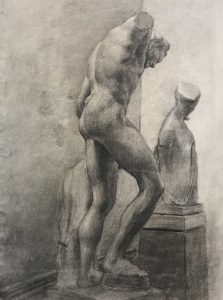 In 1880, the casts were moved to the studios to be used exclusively by students, no longer on view for the public. Once the casts were in the studios, their educational value also shifted from that of anatomy to also include expression. Late 19th century Academy teacher Thomas Anshutz favored charcoal and relied heavily on high contrasts of light and dark. This contrast of light and dark can be seen in Ben's casts drawings that will be on view for the upcoming exhibition. We are very lucky that Ben, for whatever reason, decided to keep these earliest drawings.
Looking through Ben's morgue (an artist's collection of reference material), there are a many reproductions from Europe and museums featuring sculpture that he admired or drew inspiration from. He never gave up studying art from the past and present. In the 1940 United States Census, Ben lists that he did not attend college, as the Academy did not begin to issue BFA's until 1929, and the degrees were issued in conjunction with the University of Pennsylvania. Prior to this, the Academy was well-known for their 4 year certificates. Yet his time at PAFA gave him a rich education to help him create his own signature work.
-Katherine Eastman