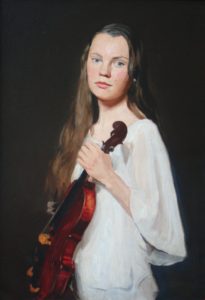 On Saturday October 15th, award-winning artist Paul DuSold will give a portrait demonstration in the Main Studio at 2:30 pm. Visitors may remember that six years ago, during the run of a joint exhibition of Solowey and DuSold work here at the Solowey Studio, DuSold made history by painting the first work in the studio since Ben Solowey's death in 1978.
Like Ben, DuSold is one of the few accomplished portrait painters who not only can capture the personality of his sitter, but also speak intelligently to an audience while doing it. We are thrilled to have Paul return to create a new portrait in Ben's remarkable studio. He will be drawing this time instead of painting, in honor of our works on paper exhibition. You won't want to miss this opportunity to see DuSold in action.
The day after this demonstration, DuSold's work will be featured in a new exhibition, The Nude, Mirror of Desire opening at the Wayne Art Center through November 19, 2016. The show also includes the work of Scott Noel, Ben Kamihira and Margaret MCanne. To learn more about DuSold and his art, visit pauldusold.com.